Yesterday Wakefield Trinity Ladies played West Leeds Eagles in a pre-season friendly, at Sharlston Rovers, Wakefield [which will be the home ground for the  Ladies].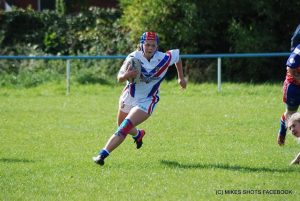 Trinity Ladies played a good attacking game, and scored some great tries, and it was only a good defensive performance from West Leeds that prevented them from scoring further.
The Ladies gave debuts to two 16 year old recent signings: Angel Miller and Hannah Watts, who both got on the scoresheet, while putting in accomplished performances.
Team captain Yasmin Copeland, who again led from the front and whose ingenuity in attack created many opportunities for the team, was also on the scoresheet with two well executed team tries.
Kasey Lemm also crossed the whitewash after sprinting 80m to cross the line and to bring the tally of tries scored to five.
But it was not just in attack that the Ladies shone, they were once again formidable in defence, with player of the match, Verity Smith, putting in some colossal hits.
Claire Reynard also demonstrated why she has been a recipient of the 'Woman of Steel' accolade, as she made a staggering 39 tackles in the 60 minutes that she played.
Conversions added by Yasmin Copeland and the score finished 26-16.
After the match Jo Phillips Head Coach said: "Our performance yesterday was a result of all the hard work that these ladies are doing in training. Their attitude and application is paying dividends, and their passion and heart, makes the coaches, and club incredibly proud."
Wakefield Trinity Ladies are now in pre-season and are recruiting new players. If you are aged 16+ and would like to have a go at rugby league get in touch with the team via Twitter  @WTLRL (no experience required).  
Report courtesy of Wakefield Trinity Ladies.
Photography from Mikes Shots