Durham pupils were given a day to remember on Friday as they grilled two professional footballers ahead of a crunch cup clash.
Annabel Johnson and Becky Salicki are part of the Durham side set to host FA WSL 1 outfit Everton in the SSE Women's FA Cup on Sunday, with the winner claiming a place in the last four.
Students at two schools crowded for photos with the players and the cup itself, which was in Durham on Friday as part of SSE's commitment to expanding women's football to the masses.
And Easington Academy in Peterlee was the first school to benefit as kids showed off their skills with the players before asking Johnson and Salicki what it is like to be a professional footballer in the women's game.
And it's fair to say the children were bowled over by the presence of the players, with PE teacher Katy Hawkins confident the visit will benefit them on and off the field.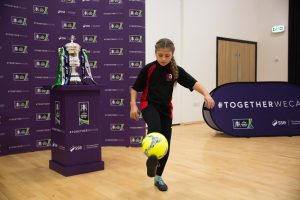 "We've got a lot of young players who are aspiring the level the players are at, both boys and girls, so it's a really good opportunity to see these girls in this position and actually interact with them it first-hand," she said.
"Sometimes on the TV girls see a lot of male footballers and can find it hard to relate to them, so when they have the opportunity to meet women players at the top of the game, they really take it on board and it inspires them to keep training and working hard."
Two such talented youngsters are Year 7s Brydie Thompson and Ellie Wise, who loved seeing the cup as well as getting up close and personal with the players.
"It's exciting to see that what it would be like if we became professional footballers one day," said 11-year-old Brydie. "It was amazing to see the trophy too – you see it on the telly and I really wanted to see it and it was here!"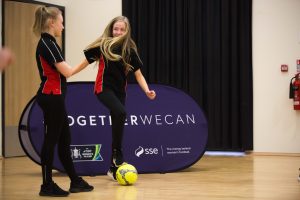 Twelve-year-old Ellie added: "I've enjoyed learning about the players and the questions we've asked about them as well. I like football because it's fun and it gets you fit."
Another school which saw a visit from the players and the trophy was Consett Academy. Johnson and Salicki enjoyed a lively discussion with Year 7 and 8 pupils about the challenges they faced as women trying to make it in football, as well as sharing some of their most cherished memories on the field.
The level of interest and discussion from the pupils from both schools left Johnson thoroughly impressed.
"We had brilliant question and answer sessions from the girls – they showed loads of enthusiasm," said the defender.
"I've been really impressed by the whole day and the interest shown – it seems the questions came with intent and the kids really meant them.
"The comparison from when I was at secondary school to what I've seen today – it's come along leaps and bounds so it only shows positive signs for the future in women's football."
Salicki added: "It's very impressive to see so many young players coming through, especially girls. When I was at school there was only myself and one other girl playing football at a young age – it's nice to say we can help inspire them to keep going.
"It's what we want to do and help inspire the next generation that can go on and play for England."
Football is a popular sport among young girls at Consett and Philip Dodd, PE teacher and head of Year 10 at the
school, was left beaming at the attitude shown by his students.
"It made me very proud to see them engage in such a manner – it was fantastic to see," he said. "The kids are very keen on football and it was good to see the players have an impact on those who might want a career in the game.
"These are the grass roots and what girls football is about, getting them involved and keeping them involved and days like this allows that to happen."
Sandwiched between the school visits was also a nod to the club's roots as the roadshow stopped by the university's Team Durham headquarters at Maiden Castle.
Durham University joined forces with South Durham and Cestria Girls in 2013 to form the team in its current guise.
And for Quentin Sloper, director of Experience Durham, who are responsible for the university's sport and played a major role in the formation of the club five years ago, the cup on show in the building symbols just how far the players and staff at Durham Women have come in just a short space of time.
"It's brilliant when you embark on projects like this like we did four or five years ago – you think about days like this and hope they come around and it's really exciting," he said.
Tickets are now on sale for the SSE Women's FA Cup Final on Saturday 5th May at Wembley Stadium connected by EE. For more information about tickets and SSE's involvement in women's football visit www.sponsorship.sse.com.
By Jimmy Booker, Sportsbeat