University of Bath student Imy Bantick struck gold at the 2021 World Rowing Indoor Championships this week – all while competing in her own kitchen.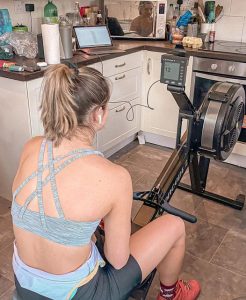 Bantick, who studies Sport & Exercise Science and rows for the Crew Bath student club, completed 2km on her home rowing machine in 7mins 22.3secs to claim victory in the U23 Lightweight Women's race ahead of competitors from Hong Kong, Tunisia, France, Canada and the United States.
Tuesday's race was live-streamed on World Rowing's YouTube channel and each competitor could see where they were in relation to each other on the virtual course. With UK gyms closed due to the national lockdown, Bantick had to race from home but that didn't stop her taking the spoils.
"The rowing machines were connected to computers to regulate the event and simulate side-by-side racing," said Bantick, who qualified for the Worlds by winning the British Rowing Indoor Championships in December.
"It actually wasn't too different to competing normally as the rowing machine never really changes but racing in my kitchen was a bit of a weird experience.
"I have been following the Crew Bath training programme in preparation for the champs, doing a lot of long rowing machine sessions, and I'm really pleased to have come away with the win."
Find out more about Crew Bath at www.thesubath.com/rowing.
Courtesy of the Team Bath Press Office at Matchtight Ltd.