It's not every day you get to meet professional footballers and take part in a training session delivered by the manager.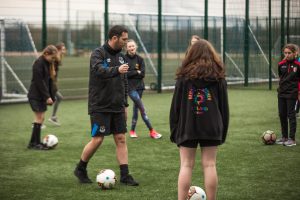 But that's exactly what happened to 20 girls from St Michael's Church of England High School in Crosby on Thursday as they were taken behind the scenes at Everton's Finch Farm complex.
Everton take on Durham in the SSE Women's FA Cup quarter-finals on Sunday and the teenagers got to ask the Blues' players about how they made it as footballers.
Manager Andy Spence then took the pupils for a special coaching session before the girls had lunch with the players and watched them be put through their paces in training for the last-eight clash.
"Thursday was about trying to share our experience and hopefully one of these kids will be an FA Cup finalist in the future," said Spence.
"If that dream started at Everton, that would be great."
Skipper Danielle Turner was one of the players grilled by the pupils in a question and answer session earlier in the day, which also saw students get up close and personal with the SSE Women's FA Cup trophy.
"They had some really good questions from me and a few of the girls about how we've got to where we are and the commitments and sacrifices we've made," the defender said.
"It's been a really enjoyable day –  I think some of them are doing football for the first time but everyone seemed to enjoy it.
"We want to get as many girls as possible coming to our games and getting involved as possible, getting them participating.
"It's great to also get the SSE Women's FA Cup out there."
Turner's teammate, winger Chloe Kelly, added: "It was great having the girls down and hopefully we can pass on a bit of experience and knowledge to them, not only about football but people and lifestyle choices as well."
The students got the unique chance to examine the intricacies and preparations that go into running an elite level football club.
Year 9 pupil Georgia Cook said "When we got here, we had a tour and then asked questions to the team about what they do. It was great.
"Then we came outside and watched them train. I've enjoyed it loads."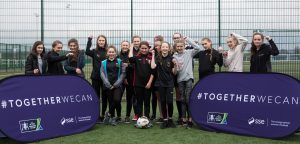 Fourteen-year-old Amy Gough added: "I really enjoyed the training and games. It was great to meet some of the players as well."
It is the latest in a strong of initiatives the school has done with Everton, with the school having enjoyed visits from players in the past and attended the Blues' matches.
Jo Lewis, director of progress and P.E. director at St Michael's believes the experience will stand the pupils in excellent stead as they look to set their goals for the future.
"We got involved with Everton in the community as a school about two years ago – we've been to see them before," she said.
"The girls got involved in coaching on Thursday, they've been trained by the ladies' coach which has been excellent.
"They're not all footballers but just the experience is terrific. But it's about raising the aspirations for them and getting to aim a bit higher than they normally would.
"It can be hard to get the girls to stay motivated past the age of 16 but an experience like this has been brilliant."
Tickets are now on sale for the SSE Women's FA Cup Final on Saturday 5th May at Wembley Stadium connected by EE. For more information about tickets and SSE's involvement in women's football visit www.sponsorship.sse.com.
By Jimmy Booker, Sportsbeat