Defender, Natalie Haigh returns to the club ahead of Spring Series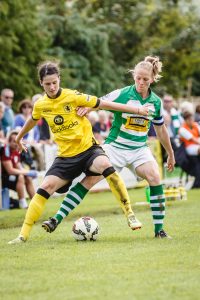 Yeovil Town Ladies FC have announced that Natalie Haigh, former captain of The Lady Glovers has re-joined the club. Haigh departed prior to the 2016 season due to work & studying commitments, as well as sustaining a back injury.
On the return of Haigh, Manager Jamie Sherwood said, "I am really happy to have brought Natalie back to the club and seeing her back in Green and White is an exciting proposition.
"Her experience, leadership and outright ability becomes an excellent addition to our squad for 2017."
On returning, Haigh said, "I am absolutely delighted to have been given the opportunity to come back. After the injury I sustained to my back almost 15 months ago, I never thought I would play again, let alone at this level.
"It's great to be back in and around the club – there is a real buzz after the success they achieved last year. Anyone that knows me knows that football is my life, and it's an unbelievable feeling to be back. I can't wait for the Spring Series to start, and to get going with the team.
"The girls here worked so hard for their success in winning WSL2 last season, and it's a real honour to now have the opportunity to train and play alongside them. This team and this league are so competitive, and I have a lot of work to do to prove that I'm good enough to not only break into the starting 11, but to compete against some of the top players in the world.
"I'm really looking forward to the challenge of learning and growing with this team, and as a collective unit being on a stage where we are competing amongst the best teams in the country."
She continued, "Leaving Yeovil was tough especially as, at the time, I couldn't see a way back from my injury. I've spent a lot of time in the gym trying to get myself into a position to be strong enough to start training properly again, and I have many people to thank for getting me to this point.
"I intend to give 110% whenever called upon to play – this club means a lot to me, and I respect the privilege of being able to wear the shirt".
Sherwood added, "This doesn't conclude our recruitment for our First season in WSL 1 as we are still hopeful of getting across the line 2 or 3 more prior to our FA Cup match vs Notts County in mid-march."
Yeovil's first game of the Spring Series season is against Liverpool on April 23rd at Huish Park. To purchase tickets, click here.
Report courtesy of Yeovil Town Ladies FC