This year, under the guidance of  coaches Craig Taylor, Lori Halloran, Sarah Fletcher and Georgia Grimshaw, Batley Bulldogs Women & Girls will run U12, U14, U16 and open age teams and will be looking to build on the last 3 years fantastic achievements.
Training for the coming season began on Wednesday evening and with attendance of 40 girls across three age groups the future is looking bright.  
Batley Bulldogs are the only Professional club with a full female section providing a pathway for girls from age 11 to open age.
The Under 12s had a brilliant first season last year, the U16s won back to back league titles and the newly formed women's team is competing well in the WRLA Division 1.
This Sunday, 8 January Batley's women's team will play Hunslet Warriors in the quarter final of WRLA Cup. The game will take place at Batley High School with a 2pm kick off.  Come along and get a taste of women's rugby league.
Craig Taylor has said: "given the guidance, tools and freedom to express themselves it's amazing what women & girls from all backgrounds can achieve."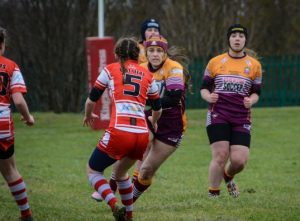 In October 2015 Craig took his U16 team on a tour of Australia.  The tour was so successful that two of the players, Evie Kilburn, Millie Taylor (as part of a NRL outreach programme) were invited to play for Australian school champions Merrimac High. They were accompanied by Craig, who was invited to coach and spend time with Queensland development staff on their tour of New Zealand.
Head of the Merrimac Rugby program, Dave MacColl, is happy for more of the Bulldogs girls to gain experience from playing with the Australians. Whilst a number of Australian girls have discussed the possibility of coming to play for Batley and gaining placement at a school in England for 4 to 8 weeks. While some of the U16s squad have been invited to play with the Merrimac team in Cairns in late June this year, for 2 weeks, at a national festival.
Batley Bulldogs are breaking new ground with this association with Australia and hopefully this will lead to girls from both sides of the world swapping places, making new long lasting friendships, playing rugby and studying in a different country. The Bulldogs are the first female club to offer this exciting opportunity at moment in the UK.
Craig has also teamed up with former professional rugby league England international, Ikram Butt to organise the Jo Cox Memorial Tour. A ground breaking programme of events designed to encourage women and girls in Pakistan to take part in rugby league and/or rugby union.
With the firm belief that taking part in rugby of either code is a wonderful development tool for women and girls Craig is also taking his rugby union coaching badges and is helping Morley Rugby Union develop a girls section.
Bulldogs U13 girls will play for Morley RUFC in the winter with Craig coaching there while the U16s will play for Doncaster RUFC. Some of the union girls will swap coded to join Batley for league programme in the summer. Committees at both clubs think it's a great initiative, orchestrated by Craig, to get girls playing both codes and learning from each other.
Craig tells us that this is all about girls playing and coaches enjoying their coaching.  It's not just the players that can learn from each other, as coaches they can take good practice from our respective codes and become better coaches for the girls we coach. It's a win win for all concerned.
And, Craig will be taking part in a panel speaking about "getting women into sport" event at Kirklees College on 18th January.
If you are interested in being a part of this fantastic Club then you can get in touch either via this website or contact Craig Taylor directly via Twitter: @Coach_craig40
Sponsorship and partnership opportunities are also available for this season for kit, players, ground and programme once again please get in touch if you would like to be involved in this amazing success story.