ENGLAND'S Ladies Curling Team have qualified for their third Women's Curling Championships in Esbjerg, Denmark next month and have turned to PledgeSports.org to raise funding for their travel to the European finals.
The young team of talented ladies, all from West Kent, achieved a bronze at their first senior championships just two years ago and have matured into Gold medal material.
Little funding is available to England's Ladies Curling Team, leaving them struggling to cover the costs of going to Esbjerg in Denmark for Le Gruyere European Curling Championships with the five-strong team and coach John Sharp.
In order to fund their Championships bid they are asking fans and the public to support them using a sports crowdfunding campaign on specialist site PledgeSports.org.
The team said: "We have shown that we have the potential and desire to achieve great things for English curling and have already made a
big impression on the European curling stage.
"Going forward, we want to make it to the World Curling Championships and we also have huge ambitions to break into the British Olympic team in the future! We are asking if people will support our team to give us the chance to progress to the World stage."
In return for support, the team is offering personalised, signed memorabilia and a session of curling coaching for 8 people with the squad. They are also opening themselves up to larger sponsorship with kit branding deals available.
To support England's Ladies Curling Team and find out more click here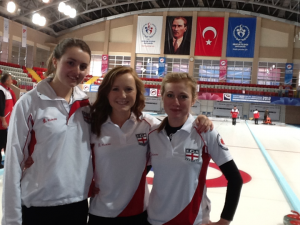 Meet the team
Anna Fowler: 'Hello! I'm Anna, I'm 24, work in Facilities Management and have curled since I was 13. I am so excited for the season ahead and especially proud to lead such a great group of girls to represent England at the Euros!'
Hetty Garnier: 'I'm 20, a politics student at Bristol University and have been curling since 2008 when I was 12. I'm very excited to be rejoining the team after a year away and look forward to many successes in the next few months.'
Angharad Ward: 'I'm 20 and a biology student at the University of Durham. I'm looking to
apply my recent GB experience from the World University Games to this season and bring some medals home!'
Lauren Pearce: 'I'm 23 and a prep school teacher in Kent. All my school kids love reading about 'Miss Pearce' on our blog and I love telling them about my international sporting experiences.'
Naomi Robinson: 'I'm 21 and a Geography student at the University of Newcastle. I love curling with these girls and want to make all of our supporters proud this season! Please help us reach our potential by giving to our campaign.'
You can follow the England Ladies Curling team through their Facebook page here or via Twitter @lovecurling