Young LCB County Girls Under 11s batter Liberty Heap has won the 2BR Local Hero Award 2015 for Sporting Achievement of the Year. Libby from Lowerhouse Cricket Club and Shuttleworth School has represented LCB County Girls at Under 11s for the last 3 years and in 2015 captained the side and also proved she was ready to step up to the Under 13 level where she held her own.
Libby won the award following nomination for her maiden century, she was 101* v Staffordshire Girls Under 11s back in May. Since then she's gone on to score 41 v Shropshire and 52* v Nottinghamshire. Libby is the youngest girl at just 11 to score a century in the Girls County system in Lancashire.
Jen Laycock, LCB's Women and Girls CDO, said: "Libby has gone from strength to strength over the last 3 years and has always shown she had the potential and ability to score big. At the Under 11s age group we keep the games relaxed and often retire the girls to ensure we provide opportunities for lots of batters to gain experience, however we felt we needed to give girls the experience of batting for long periods of time especially those we feel have potential to push on further. Libby demonstrated skill, patience and determination to bat for long spells and score big."
"She is dedicated to improving her game and loves coming to watch the LCB Thunder side where she hopes one day to represent. It's great to see young girls enjoying the game, being successful and having ambition to become the best they can. I look forward to watching Libby develop over the next few years and see her grow. An excellent achievement to win the 2BR Local Heroes Award at such a young age, it's just one step in her journey. Strength and depth of the number of promising players in the county girls' junior system is exciting and we all look forward to seeing players progress."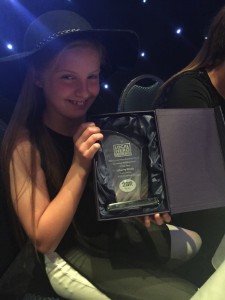 Libby Heap said on winning the award: "I am over the moon to win! It tops off a great season for me and I'm happy to leave the Under 11 age group having scored my first hundred. I am going to work so hard so I can play with my idol Kate Cross one day."
The annual 2BR Local Hero Awards is run by local radio station for East Lancashire 2BR (99.8 fm) to celebrate the dedication of people from Lancashire. The awards which have been running for more than 10 years honour the hard work of people from across the county, across a wide range of categories.
From the best Grandparent to the Child of Courage, amazing people from every background are recognised.  The glitzy award bash took place at Burnley Mechanics, where the winners were treated to champagne on arrival, a three course meal and the award ceremony, surrounded by family and friends.  One suspects it might be the first of many for Libby.
This has been a massive season for both Libby and her family as they and her cricket mentors nurture her talent. It is wonderful to see such hard work and determination is such a young girl but over-riding everything is the sheer enjoyment at playing cricket.  I hope that the success and fun that Libby is having will inspire other youngsters to take up the game.  We look forward to following her career.
For further information on all winners visit the 2br website here.
Report courtesy of the Lancashire Cricket Board