This past weekend attendances at WSL matches appear to have increased across the board with records broken from Doncaster to Arsenal.  Yeovil Town Ladies are hoping that this renewed enthusiasm for the women's game will push the attendance at their game into four figures.
For this Sunday Jamie Sherwood's Yeovil Town Ladies aim to tame the Millwall Lionesses at Huish Park in FA Women's Super League 2, kicking off at 2pm. The Lady Glovers boast a plethora of talent currently impressing in national colours.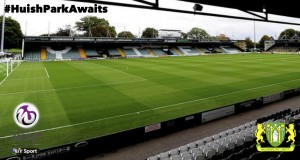 Sherwood's team resume action after an extended summer break on Sunday. Currently sitting in third in FAWSL2, they are nine points behind top two Reading and Doncaster Rovers Belles with a game in hand, The Lady Glovers are looking for extra support to help inspire them to a best ever finish as they lurk ready to pounce on a slip from those above them.
It's been more than two years since the Lady Glovers stepped out at Huish Park, the home of their Sky Bet League Two counterparts, on that occasion Leeds United triumphed 1-0 in the FA Women's Premier League Cup. The attendance that day topped 600 – they are hoping to break four figures on Sunday.
Yeovil Town Ladies were last in action at the end of May when they were defeated 3-0 by Donny Belles at the Jones Stadium, Sherborne Town. The unfortunate postponement of the visit of Everton [because of international call-ups] has only left them even more fired up to return fighting.
Can the Lady Glovers make it two home wins from two against Millwall? Yeovil drew 1-1 in the capital earlier this season and smashed two without reply beyond them at Sherborne in July last year. Will history repeat itself?
As usual Yeovil Town LFC are offering great hospitality with the possibility this time of a Sunday roast together with the live sport. You can enjoy a delicious carvery, meet a player or two and then take in the match for one great price.
A great advantage of the women's game is that the spectators have the opportunity to get to speak with the team they support.  This is particularly brilliant for the children who can actually interact with their heroes on the field  which will hopefully inspire them to take up sport themselves.
Turnstiles at Huish Park open at 12.30pm on Sunday, with the carvery served in the Alec Stock Lounge from 1pm. If you wish to eat, please book your place in advance. Match tickets are priced £4 and £2.50 for concessions, with the carvery an extra £7.50. Click here to buy your tickets and reserve a seat to eat.
Thanks to YTLFC for this story.