East Grinstead and Buckingham came away with vital points from the penultimate day of action in the Promotion Play-Offs at the Investec Women's Finals Weekend.
A 7-1 victory for East Grinstead and 2-1 for Buckingham puts the two sides second and top of the table respectively. Slough have the same number of points as East Grinstead, but after losing by six goals they will have to be at their very best tomorrow, when they face Buckingham, to clinch a place in the Premier Division.
East Grinstead v Slough
EAST GRINSTEAD 7 (5)
Sophie Bray 4, 17, 29 (FG, PC, FG)
Lucy Brown 6 (FG)
Alicia Caillard 13 (FG)
Julia Blackstock 57 (PC)
Heather Batten 70 (FG)
SLOUGH 1 (1)
Dilly Newton 12 (PC)
Match Report:
A first half hat-trick from East Grinstead's Sophie Bray breathed new life into the Sussex side's playoff hopes as they swept aside Slough in the first game of the weekend.
The Great Britain star struck the first blow after just four minutes latching onto a defensive slip in the circle to slide the ball home on the backhand.
East Grinstead struck their second just two minutes later, this time it was Lucy Brown showing a poacher's instinct, turning and firing into the far corner.
Slough found their way back into the game pulling one back through Dilly Newton but their joy was short lived as moments later Bray turned provider, driving round the left and cutting back for Alicia Calliard to apply the finish. Bray made it four from a penalty corner on 16 minutes as Slough struggled to get a foothold in the game.
It could have been even better for the side from Saint Hill but Pippa Rabey's penalty stroke was brilliantly saved by Amy Gibson. With six minutes left in the half, the fifth goal did arrive. Brown stole possession inside her own half and broke forwards, her pass to Bray was perfectly weighted and the No19 beat Gibson to the ball and lifted it in, sending East Grinstead in at the break 5-1 ahead.
The second half took some time to get going as the sides battled for control of the midfield. Bray was a threat once more as her run and powerful shot drew a superb near-post save out of Gibson in the seventh minute of the half. Rabey also drew a block out of Gibson as the Scotland goalkeeper continued to defy East Grinstead in the second half.
With a little over 14 minutes remaining Mary Booth's side grabbed their sixth. The penalty corner was not their slickest but Julia Blackstock was alive to the situation and forced the ball home from close range. Slough forced a penalty corner with eight minutes left but the East Grinstead defence stood firm and cleared the danger.
In the last minute East Grinstead's Ruth Gordon drove into the circle and fired a backhand shot goalwards which Heather Batten turned in to put a gloss on the scoreline and left if all to play for going into Sunday's games.
A delighted Sophie Bray told England Hockey afterwards: "It was a final for us today, we had to come out and win, and we had a good start and then just kept the momentum up from that. We started slowly in the last playoff game, and we knew we couldn't go a few goals down today, so we took it to Slough and got ourselves in front. Today's win was really only one step, it'll mean nothing if we don't go do the job tomorrow, so hopefully we can put in another performance against Wakefield."
Slough captain Kat McGonigle could not hide her disappointment but stressed the need to look ahead, saying: "We have to regroup and put this game to bed. There's a lot to learn from, but we need to pick up on the positives to go into tomorrow's game. We're going to need a win and hopefully a big win because I'm sure goal difference is now going to come into play."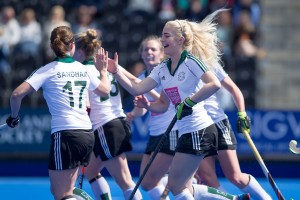 Source: Ravi Ghowry
Both sides still have a chance of promotion with Slough facing Buckingham and East Grinstead going up against Wakefield tomorrow in the final round of games.
Wakefield v Buckingham
WAKEFIELD 1 (1)
Rosie Tootell 5 (PC)
BUCKINGHAM 2 (1)
Kirsty Freshwater 21 (PC)
Leanne Grimsley 38 (PC)
Match Report: 
The other match in the Promotion Play-Offs saw a much tighter encounter between Wakefield and Buckingham. Things started brightly for Conference North champions Wakefield when Rosie Tootell put her side in front on five minutes, but goals from Kirsty Freshwater and Leanne Grimsley in the 21st and 38th minute earned Buckingham their second win in as many games at the play-offs and took them a step closer to securing their Investec Women's Premier Division status. The result leaves Buckingham top of the table on six points with one more game to play against Slough tomorrow morning.
The first half was an end-to-end encounter with both teams seemingly taking it in turns to attack. Wakefield drew first blood in the fifth minute with Rosie Tootell's fierce penalty corner finding the net to break the deadlock. Wakefield looked full of running with Sally Walton and Heather Stafford combining well and giving Buckingham's defence plenty to think about.
After 20 minutes Buckingham forced a penalty corner. Zoe Shipperley drilled her shot in but Karen Wells got down quickly to her right to make an excellent save. Buckingham forced another penalty corner a minute later and though it wasn't injected cleanly it was slipped to Shipperley who found Kirsty Freshwater to apply the finish to level the scores. Wakefield had a chance from a penalty corner of their own but Tootell fired wide this time whilst at the other end Wells had to be alert to beat away a backhand strike from Freshwater ensuring it was level at the break.
With three minutes gone in the second period Buckingham took the lead from another penalty corner. The ball fell to Morag McLellan whose low shot was expertly diverted in by Leanne Grimsley to make it 2-1. There was no shortage of industry as both sides grappled to get control of the game, however clear chances were in short supply. With 20 minutes gone in the half Buckingham forced another penalty corner but McLellan's shot was dealt with by Wells.
With the importance of the next goal magnified by the play off situation tempers flared and three yellow cards were produced in quick succession. With Buckingham down to ten players and time running out Wakefield removed their goalkeeper to add an extra player as they chased an equaliser. They came close almost straight away but Anna Searle beat the ball away with her gloves and maintained her team's slender advantage. Wakefield continued to press but were unable to find the equaliser and Buckingham took the win.
Speaking after the game Buckingham Captain Zoe Shipperley said: "Today was really tough, we knew that it was going to be a hard game, we knew that it was probably going to be a bit of a battle, but we thoroughly believed that if we could stick to our game plan, then we would come out on top. We went a goal down early, but I think it showed in the second half how much we believe in how we play, and we came through in the end, but we've definitely played in nicer games."
Ahead of the final game tomorrow against Slough, Shipperley added: "We always knew it would come down to the last day, being veterans of this weekend in years gone by, I don't think we've gone to a single playoff where it hasn't gone down to the last day, so we had no illusions about how it was going to turn out and that Saturday wasn't going to be the end of it for us. So we'll have a big rest tonight and we're very much looking forward to tomorrow and what that brings."
Wakefield Player/Coach Sally Walton summed up her disappointment:
"I don't think we've seen the real Wakefield here at the playoffs. There's still all to play for and the girls will be after a bit of pride and to take three points out of the next game. We play well in the big games, so I'm hoping that we're going to bring that form and really show this crowd at Lee Valley what we're all about and why we won the Conference North by 11 points."
With Buckingham on the brink of staving off relegation they will face Slough tomorrow, whilst Wakefield will play East Grinstead with everything still to play for.
The final two matches of the promotion play-offs will be played simultaneously tomorrow with Slough taking on Buckingham on Pitch 1 and East Grinstead facing Wakefield on Pitch 2.
Investec Women's Finals Weekend – Promotion Play-Offs standings
| | | | | | | | | | |
| --- | --- | --- | --- | --- | --- | --- | --- | --- | --- |
| Rank | Team | Played | W | D | L | GF | GA | GD | Points |
| 1 | Buckingham | 2 | 2 | 0 | 0 | 6 | 4 | 2 | 6 |
| 2 | East Grinstead | 2 | 1 | 0 | 1 | 10 | 5 | 5 | 3 |
| 3 | Slough | 2 | 1 | 0 | 1 | 4 | 7 | -3 | 3 |
| 4 | Wakefield | 2 | 0 | 0 | 2 | 1 | 5 | -4 | 0 |
Investec Women's Finals Weekend – Promotion Play-Offs – results so far
Sunday 29 March – Cannock Hockey Club
Match 1: Wakefield [North] 0 – 3 Slough [West]
Match 2: East Grinstead [East] 3 – 4 Buckingham [Prem]
Saturday 18 April – Lee Valley Hockey and Tennis Centre
Match 3: East Grinstead [East] 7 – 1 Slough [West]
Match 4: Wakefield [North] 1 – 2 Buckingham [Prem]
Sunday 19 April – Lee Valley Hockey and Tennis Centre
Match 5: Slough [West] v Buckingham [Prem] – 10:45 start [Pitch 1]
Match 6: Wakefield [North] v East Grinstead [East] – 10:45 start [Pitch 2]