With the battle for the top of the Premiership won by Saracens we can turn our attention to the other end of the table.  Will Aylesbury Bulls Ladies be relegated or will they stave off competition from the Championship and retain their place in the Premiership?
Thurrock T-Birds who are 30 points clear of their nearest rival on 68 points in the Championship South 1 and Firwood Waterloo who are on 65 points in Championship North 1 will contest the first play off match on 22nd February at Broadstreet RFC in Coventry.  The winner will go on to play against relegation candidate Aylesbury on 29 March (time and venue yet to be announced).
Here's how the T-Birds finished their campaign:
With the League already won, Thurrock T-Birds travelled to Southampton and the Trojans Club for another step towards the possibility of playing in the Women's Premiership.
Ts went about their business in a calm and workmanlike manner and steadily built a score against a Trojans side outclassed in all departments but desperate to take something out of the game for their relegation battle.
Captain Nichols opened the scoring for the Forwards in only 4 minutes and then as Baker, French and Nichols smashed holes through the midfield the backs were on hand in the shape of Radford, Francis and Cook to get around the defence for relatively simple scores.  Nichols should have finished the half in the manner in which she started, but unselfishly gave Lalla Vazi a simple run in to claim the 5th try and bonus point for 25 nil.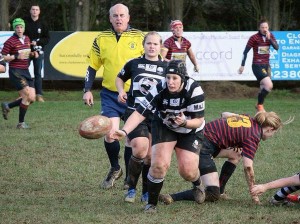 Source: Thurrock RFC
The second half continued in the same manner as the first, Harvey bamboozling the defence for the first score and Hepper powering over from short range for the second.  The last 20 minutes saw the welcome return of World Cup Winner Kay Wilson from long term injury, her pace adding another dimension to Thurrock's already electric attack.
Nichols yet again unselfishly put Harvey away, executing a simple 2 on 1 and Vazi closed the game with her second to bring the final score to 0-47.
Trojans had plenty of chances themselves with good periods of play throughout the game but Thurrock's aggressive defence snuffed out all their opportunities.
Supporters coaches will be running from Thurrock Rugby Club to Coventry on 22 February.